Guernsey Air Display 2014 line up announced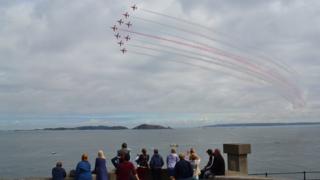 The line-up for planes taking to the skies in the Guernsey Air Display 2014 event have been announced.
The skies above St Peter Port is due to see the Battle of Britain Memorial Flight comprising the Lancaster, the Hurricane and the Spitfire.
This year's event will be held on Thursday 11 September from 11:00 BST to 13:15.
It raises funds for the Guernsey Branch of the Royal Air Forces Association (RAFA).
The Guernsey Air Display Foundation has been set up to be the legal entity to organise the event on behalf of RAFA.
The event will also see aerobatic displays and Jet Provost will fly along with its military training and light attack version, the BAC167, to mark the aircraft's 60th anniversary.
The Red Arrows will provide the annual finale with their speed and precision formation flying.
Michael Perrett, who has been involved in the event for 10 years, said: "The setting up the Guernsey Air Display Foundation enables the air display to have its own legal identity.
"The Guernsey Air Display has been and will continue to be the pivotal event of RAFA Guernsey's Battle of Britain Week of events."