Repairs to storm-damaged Castle Cornet breakwater set to start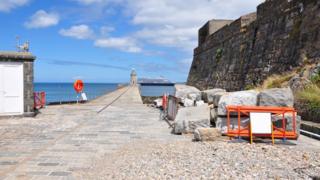 Repairs to the storm-damaged Castle Cornet breakwater are set to start on Friday.
The top layers of stone were washed away from a 30m (100ft) section during storms in February and temporary repairs were carried out to prevent further damage.
The work is expected to take about eight weeks at a cost of £223,000.
There will be no public access to the breakwater beyond the entrance to Castle Cornet during this time.
Guernsey contractor North Star Civil Engineering has been appointed to carry out the permanent repairs.