Condor Ferries charters second freight vessel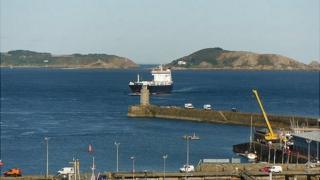 The chartering of a second vessel to replace the damaged Commodore Clipper should see freight supplies return to normal, Condor Ferries has said.
The Clipper has been out of action since it hit the seabed off Guernsey on 14 July, but the company expects it to return to service on 26 August.
Its loss has meant disruption to food supplies in the Channel Islands.
The MV Arrow is due to start work this weekend alongside the MN Toucan, which made its first delivery on Tuesday.
Passengers due to sail on the Clipper have been offered places on other sailings, with the company scheduling three extra fast ferry services.
Captain Fran Collins, ports and guests services director, said the second vessel meant freight supplies would be "back to normal within a matter of days".