Alderney church bells to mark WW1 deaths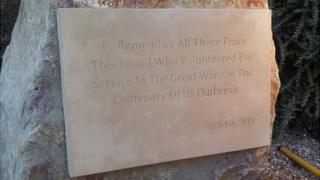 The 100th anniversary of the deaths of World War One servicemen from Alderney will be marked by the ringing of St Anne's Church bells.
A quarter peal, which lasts 45 minutes, will be rung 100 years on from the day of all 41 fatalities.
It was announced as a plaque commemorating those killed was unveiled at the Memorial Gardens on Victoria Street on Monday at 18:30 BST.
One of the church bells tolled slowly during the short service.
They will ring out to mark the 100th anniversary of Britain's declaration of war on Germany on 4 August 1914.
On Remembrance Sunday in 2018 the bells will be rung to signify the end of the war and to honour those who died after the war as a result of injury or illness caused by their war service.
Alderney resident Ray Berry said: "There was no conscription here, everybody who went were volunteers.
"My grandfather was one of them who went and he came back deafened unfortunately, but he did come back."