Golden vote proposed for Guernsey States elections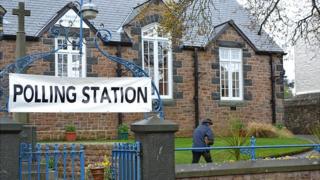 An alternative vote system involving "golden votes" has been suggested as Guernsey politicians prepare to debate island-wide voting again.
Deputy Mike Hadley has led the call for island-wide voting to replace the current system under which deputies are elected from seven electoral districts.
Its adoption before the election in 2016 is on next week's States agenda.
The new proposal would keep the current system, with voters allowed to vote outside their electoral district.
The two extra 'golden votes' could be used to vote for two candidates standing in any other electoral district.
Deputy Scott Ogier, who has brought the proposals alongside Deputy Gavin St Pier, said: "It could bring an end to this situation where every term we get the discussion of island-wide voting or not.
"It's not a compromise because it is something we strongly believe in, but there are elements of compromise to it.
"We keep the parish links and we get some island-wide voting and we can see how that goes.
"If it doesn't work we can change it, if people have more of an appetite for more island-wide voting you can move on from there."
Deputy Hadley said "the identity of the parish is overplayed" and he took calls from residents across the island not just his electoral district.
There was a mixed response from other island politicians on Twitter, with Deputy Barry Brehaut among them.
He suggested: "In my experience people want to meet you, quiz you. Not convinced by golden vote."
Meanwhile, Deputy Chris Green supported the proposals: "People want a broader franchise. This is a way of introducing an element of that without many of the practical issues of full IWV [island-wide voting]."