WW1 artefacts displayed at Guernsey's Priaulx Library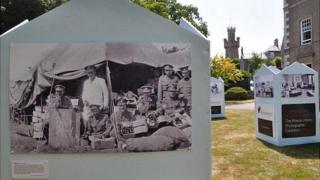 Military records rarely seen in public are among World War One artefacts on display at Guernsey's Priaulx Library.
The war diary of the reserve battalion of the Royal Guernsey Light Infantry is displayed alongside photos, journals, letters, medals and certificates.
The photos have been enlarged and are on boards outside the library while the other artefacts are displayed inside.
The journal of Lt Henry John Harvey includes phrases such as "heavy fighting" and "appalling casualties".
Despite two gunshot wounds, bouts of pneumonia and scarlet fever, he stayed in the Army and served throughout World War Two, retiring as a Lt Col in 1947.
Amanda Bennett, chief librarian, said: "He joined up in 1911 and on 13 August 1914 he found himself in France, so he was one among the early British soldiers on the Western Front."
She said: "He talks about things in quite a jolly, upbeat manner, which is interesting as you'd expect it to be more sombre."
At the front of the journal is a list of names of his friends and family among whom it was circulated within months of being written.
Ms Bennett said among the other artefacts was "a particular moving letter" written by the commanding officer of the 29th Division when the Guernsey unit left his division.
Ms Bennett said: "[He] is full of praise for the bravery and commitment of the Guernsey men and I think it's a lovely thing to have and for people to see."
The exhibition will continue into September.