Lorry driver faces Salerie Corner cyclist death charge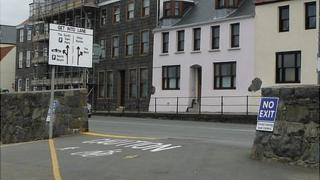 A lorry driver has appeared in Guernsey's Royal Court, charged with causing the death of a cyclist.
David Allison, 59, died at Salerie Corner after suffering serious chest injuries in a collision in April 2013.
Prosecutors said Nigel Paul Simon drove in a "deficient" manner.
Mr Simon, 50, from St Peter Port, denies causing death by dangerous driving and driving without due care and attention. The trial continues.
'Never saw him'
Prosecuting, Crown Advocate Claire Tee said the way Mr Simon drove on the morning of Friday 26 April 2013 was "in a manner so deficient that it created a brief but obvious hazard to vulnerable people and cyclists".
Nine jurats sitting in the trial examined the scene of the collision. Afterwards, they were taken to view the blue lorry involved in the collision.
Prosecution witness David Stuart Evans, who had been a few metres behind David Allison on the cycle path at Salerie, said he and Mr Allison noted a give way sign at the main entrance to a car park, looked over their right shoulders and made their way towards a side entrance.
On approaching that entrance, Mr Evans and Mr Allison braked suddenly as a blue lorry turned left, the court heard.
Mr Evans said he stayed upright on his bike but Mr Allison came off his in front of the lorry and was driven over.
The court also heard written statements from police who testified Mr Simon said "I never saw him", and that he was physically very upset and cried on a number of occasions.
There was no trace of alcohol in Mr Simon's blood, the court was told.