Guernsey-Gatwick delays due to jet 'teething troubles'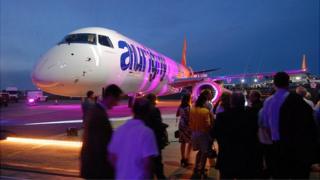 Aurigny has apologised for recent delays and disruption to its Gatwick services caused by "minor teething troubles" with its new jet.
Passengers have contacted the BBC about delays to flights, check in, security and collecting baggage on the services between Guernsey and Gatwick.
The 122-seat Embraer 195 was bought to operate the route and flew its first passenger service earlier this month.
The airline said "minor teething troubles" had been "fully expected".
The States-owned airline bought the plane, which cost just under £25m, with a loan guaranteed by the island's government.
In a statement Aurigny said: "The aircraft is brand new and a highly complex machine and the small problems we have had so far have been rectified very quickly.
"The E195 has a fantastic reputation for reliability and... was an important factor in our decision to purchase the aircraft.
"Longer waiting times to receive baggage and longer queues at check in is purely a matter of logistics.
"The ATR seats 72 people whereas the E195 has capacity for 122. Understandably, processing 50 more people and their baggage each flight will take a little longer."
Colin Le Ray, Guernsey Airport director, said he was "not unduly concerned", but the management of the security queue was constantly reviewed.
He said delays would always be at their worst when several aircraft all arrived or departed at the same time.
Mr Le Ray said: "There are as many people going through fewer check in desks... but that was always forecast."
He said increasing security staff, who would then be unoccupied for several hours, would come at a cost that would ultimately be passed on to passengers.
His advice for passengers was to consider whether or not they needed to take hold baggage and if not check in online to avoid the initial queue.