Guernsey hockey pitch replacement starts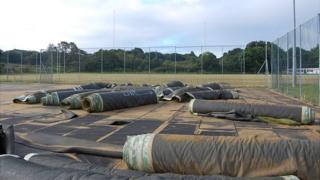 One of Guernsey's States-owned hockey pitches is being re-laid five years after the old surface was expected to reach the end of its lifespan.
Work has begun to replace the pitch, lighting and fencing at Footes Lane.
The old surface had been expected to last 15 years but has been used for more than 20.
The majority of the funding is being met by the States, with almost £250,000 raised by the Guernsey Hockey Association as its contribution.
The sand-based pitch is a multi-sport facility although it is mostly used for hockey.
Peter Stahelin, the association's chief executive, said a water-based pitch would have cost up to £1m while this upgrade would cost "hundreds of thousands of pounds".
He said the work was a public-private partnership.
The pitch will be dark green with a lighter green surround like those used in the 2014 Hockey World Cup in the Netherlands and should be ready for the start of the season in September.
A second phase of the project will involve building a 120-seater stand connecting the clubhouse to the pitch.