Guernsey plans smoking ban in cars with children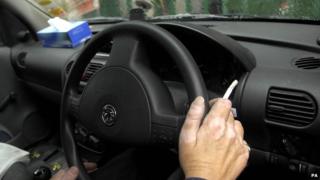 It could be illegal to smoke in cars carrying children and in outside eating areas under plans by the Guernsey government.
The plans are part of a draft Tobacco Control Strategy for 2015 - 2020 which has been released to the public.
The health department says the goal is to reduce the level of smoking in Guernsey and Alderney to 5%.
Guernsey's Health Minister, Mark Dorey, says the strategy aims to prevent the 60 smoking-related deaths a year.
Director of Public Health Dr Stephen Bridgman said: "We know that smoking is still one of the principal causes of avoidable early death and avoidable illness in Guernsey and Alderney.
"This strategy includes proposals of how we can reduce that and tackle the effects of smoking to our communities' health."
The draft proposals include creating new laws to prevent smoking in children's playgrounds and introducing mandatory plain packaging and year on year increases in duty on cigarettes.
The public are now being invited to give their feedback on the proposals, which the department says it will use to create a final strategy document to be presented to the States.
Jersey's government voted on Tuesday to ban smoking in cars carrying children.