Guernsey sea temperatures equal record high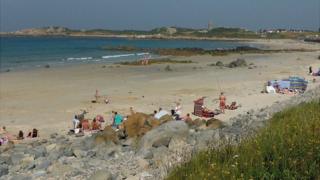 Sea temperatures around Guernsey have equalled a record high for this time of year.
Monday's reading of 16.3C (61F) is 1.4 degrees above the average for the summer and matches the previous high for July from 1999.
That year temperatures reached 18C (64F), just short of the highest ever recorded of 18.2C (65F) in August 1997.
The States' Sea Fisheries Section has recorded the island's sea temperatures for 35 years.
Dan Ingrouille, from the section, said as there was generally less wind in the summer a thermocline developed creating two layers of sea water.
He said: "This separates the sea into two very distinct layers, a very thin warm surface layer and a much thicker, deeper, colder layer beneath it and the [lack of] wind means this thin surface layer can be heated without the water having to mix with the cold water beneath."
'In the mind'
Mr Ingrouille dismissed suggestions sea water is different temperatures around the island after measuring the same temperature - 16.3C - at St Peter Port on the east coast and Cobo on the west.
He said: "Although people say this bay is warmer, that bay is warmer, it is all the same sea that surrounds us, so most of [the difference] is down to perception.
"It's all in the mind. If you see a rough choppy sea it doesn't look as appetising to you [and] when you get in its colder.
"The same if you're at a nice sunny beach. It looks clear and tranquil, so psychologically you're already thinking 'That's nice, that's clearly warmer'."