Guernsey waste export plan costs criticised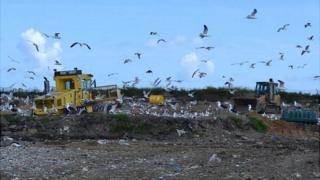 Plans to store about 2,000 tonnes of waste at St Sampson's Harbour, as part of a move to export Guernsey's waste, are criticised by two politicians.
Deputies Barry Paint and Tony Spruce said the strategy's impact and costs needed to be investigated further.
Plans to manage the environmental impact of exporting waste are due to be voted on later this month.
Environment Minister Yvonne Burford said risks needed to be identified so they could be managed.
She said: "There are risks with any strategy, there were risks with the Suez incinerator, there are risks with on-island landfill and what we've done is highlight those risks.
"It's not to say those risks can't or won't be managed and I think that's the important point."
The Public Services Department (PSD) has estimated the cost of the infrastructure needed for the export of waste to be about £29m.
This includes the construction of a transfer station, transport of the waste, a materials recovery facility and also includes vehicles for the kerbside collection of recyclables.
It has not yet been agreed where the waste will be exported to or how it will be dealt with.
Currently non-recycled waste is dumped at Mont Cuet landfill site in the Vale, which is expected to reach capacity in 2022.
'Most expensive way'
Deputy Paint said: "The problem with this strategy is it is the most expensive way of doing it.
"When the Public Services Department got approval for the strategy they said it would cost less than £5m, now it is £29m."
Deputy Spruce said: "As we don't know what the contract [to export the waste] is going to cost, will all this infrastructure that's going to be built actually be utilised for long enough?
"We're told by the Public Services Department that they may be able to secure a three-year contract... so we might spend 20 odd million on Longue Hougue to find half of it's mothballed within a few years."
Deputy Burford said: "The actual bailing plant is £5.9m, not £29m, and the licence for export only relates to the bailing plant.
"It's a risk PSD are aware of, waste is exported all over Europe.
"The chances of the receiving authority... not being able to do it any more wouldn't just bring Guernsey to a grinding halt, it would bring all the waste shipment round Europe to a grinding halt, it's really not likely."