Guernsey kerbside scheme sees 10% recycling rise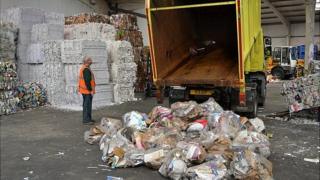 A kerbside recycling collection trial has seen a rise in the amount of recycling and fall in household rubbish during its first three months.
The amount of material recycled was more than 10% higher in March, April and May than the same period in 2013, a Public Services spokesman said.
He said the amount of household waste being dumped into landfill had also fallen by about 10%.
The department is not releasing exact figures until more data is collated.
The spokesman said the levels of glass, which is not included in the scheme but can be recycled at bring banks, were similar to those before the scheme began on 10 March.
'Encouraging start'
He said kerb side glass collections are due to the trialled in some areas of St Peter Port later in the year.
Public Services Minister Paul Luxon said: "The general increase we have seen in the materials collected, coupled with the fact we have not seen a reduction in glass recycling, is a really encouraging start for kerbside.
"It suggests that a lot of islanders who were not recycling before have started.
"What is most encouraging is we have seen an immediate drop in the amount of waste going into Mont Cuet. That is more great news, because it represents a financial saving for the parishes and for their parishioners."