Victor Hugo statue centenary marked in Guernsey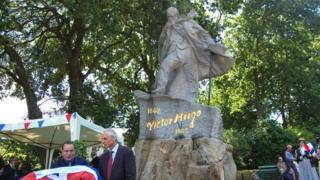 Hundreds turned out in red, white and blue to celebrate the 100th anniversary of the unveiling of the Victor Hugo statue in Guernsey.
The writer spent the last 15 years of his 19 year exile on the island.
Guernsey was given the statue, which is now a protected monument, in 1914 by the French government to celebrate links between the two places.
There were guests from France including a direct descendant of the Parisian writer at the celebrations.
The statue had undergone a week-long £6,000 clean and repair, including the addition of gold painted lettering, prior to the celebrations.