Sark Folk Festival attracts hundreds of music fans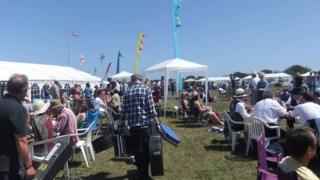 More than 1,200 music fans and musicians are in Sark for the annual folk festival.
When tickets went on sale for the event in November they sold out within an hour.
The festival, which sees the population of the island double, will feature local and national artists playing on four main stages.
Event organiser, Jess Nash, said the festival's reputation continued to grow but the event would stay the same size.
"It is a small fraternity of musicians, the folk world in the UK, and so word does spread," she said.
"It means when we try and book acts people really want to come and go the extra mile for us as it means they can come to Sark and perform at the festival.
"We are really luck as it means we get some of our folk heroes over here and see them locally."