Interim Guernsey hyperbaric service by flight to Jersey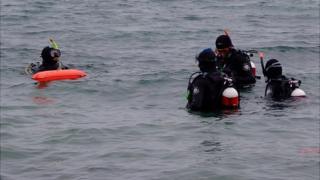 An agreement to use a recompression chamber in Jersey will allow commercial divers in Guernsey to return to work, the island's chief minister has said.
The only hyperbaric chamber on Guernsey which treats the bends, is run by St John Ambulance and broke down in April.
Commercial divers have to be within two hours of a facility when diving more than 10m (33ft).
Deputy Jonathan Le Tocq said it was used "eight times in the last three years" and only by recreational divers.
He said medical opinion, accepted by the Health and Social Services Department, was that each of these patients could have been transferred off-island for treatment.
Deputy Le Tocq said that while a charity had provided this vital service it was the government's job to ensure anything of "public importance" was in place in the island.
He said work on a long-term solution, including how it will be funded, was ongoing but it was important an "appropriate service" was chosen.
Deputy Le Tocq said the costs of the emergency medical flight to Jersey and any extra treatment would be met by commercial divers' insurance, although he did not comment on the situation for recreational divers.
He said a permit system for diving inside the island's harbours, which was brought in earlier this month, had been considered before the chamber broke and would remain in place permanently "to ensure safety".