Guernsey adopts international exams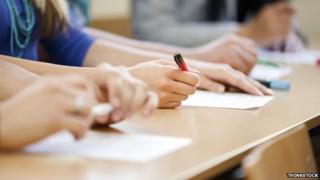 Guernsey's education department has decided to "future proof" its exam system against political uncertainty in England.
From next year, pupils will be offered a range of qualifications from outside the English system.
Officials worry that if Labour is elected in the UK in 2015, it could reverse recent decisions made by education minister Michael Gove.
Robert Sillars, Guernsey's education minister, said his plan has support.
Freedom and flexibility
"Each child will be able to take the examination that suits his or her academic abilities and I don't want us to be chopping and changing because of what's happening in England," he said.
"This is a far better result for the students in Guernsey longer term."
Students in Guernsey and Alderney will be able to sit new GCSEs being introduced in England, GCSEs from Wales and Ireland, international GCSEs and vocational qualifications.
Non-examined programmes, such as the Duke of Edinburgh Award will also be recognised.
After the age of 16, students will be able to do AS and A Levels from England, Wales or Northern Ireland, International AS and A Levels, the Cambridge Pre-University qualification, International Baccalaureate and BTEC qualifications.
Tina Watson, head teacher at Guernsey Grammar school, said: "It is vital that schools and colleges are allowed the freedom and flexibility to make the appropriate decisions for their learners."