Lord Faulk tours Channel Islands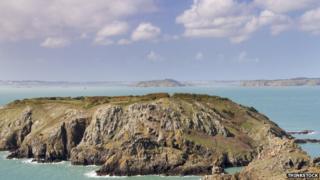 The UK government minister responsible for Crown Dependencies is visiting the Channel Islands for the first time.
Touring Guernsey, Alderney and Sark, Lord Edward Faulk told BBC News it was not his job to interfere in island politics.
He also said he would maintain a hands-off approach to political differences in Sark.
Lord Faulks was in Guernsey on Thursday, Sark on Friday and Alderney on Saturday.
Perfectly normal
His predecessor, Lord Tom McNally, previously said all the islands were well governed except for Sark, where tensions ran high between the Daily Telegraph owners, David and Frederick Barclay, and other residents.
Speaking in Sark on Friday, Lord Faulks told BBC News: "I'm here to make sure that anything that's on anybody's mind, they feel free to express themselves.
"If there's anything we can [do] to help with communications and good governance that's probably the limit of our role.
"The fact people are disagreeing does not mean the government is not functioning. That's a perfectly normal thing to be happening."
The Ministry of Justice is responsible for managing the constitutional relationship between the UK and the Crown Dependencies.
Lord Faulks, Minister of State for Civil Justice and Legal Policy, holds responsibility for the islands and was appointed in December 2013.