Plane crashes after take off from Guernsey Airport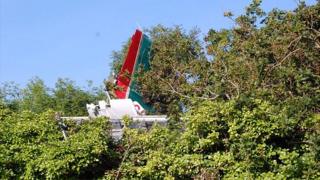 A plane has crashed in a field shortly after taking off from Guernsey Airport.
The two occupants of the light aircraft walked away uninjured, but were taken to hospital as a precaution.
Searches were carried out on the grounds before emergency services confirmed no-one else was injured in the crash, just off the Forest Road.
Some nearby homes were evacuated as a precaution after the alarm was raised shortly after 17:00 BST.
Emergency services were planning to unload the fuel, about 200 litres, from the plane, registered in Norfolk.
However, due to a suspected fuel leak the plane was covered in foam while the leak was investigated.
It is not clear how long this process this will take.
Residents were allowed to return to their homes before 21:00 BST.
Airport director Colin Le Ray said the single-engine private aircraft reported an incident to the east of the airfield shortly after take-off.
The airport was closed while the Airport Fire and Rescue Service remained at the scene.
An eyewitness said they saw black smoke coming from the back of the plane which then started to tilt to the right before banking to the right quickly and crashing into the ground.
This story was originally published on 17 June, but the place of registry for the plane was corrected on 18 June.