Channel Islands Air Search replacement plane arrives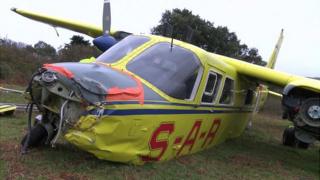 A search service, which has been out of action since its plane crash-landed, expects to return to the sky this weekend.
The Channel Islands Air Search (CIAS) Islander was heavily damaged in the landing in November while searching for two fishermen.
Fundraising for a new plane, estimated to cost £3m, to replace the Lion's Pride is ongoing.
An interim replacement plane arrived in Guernsey at 19:00 BST on Tuesday.
Three planes due
Colin Ferbrache, chief officer of the charity, said crew training on the Islander would take place ahead of it going into service.
He said the short-term replacement would have no "search and rescue technology" but would "give us visual capability".
The previous plane's equipment included radar, thermal imaging, a droppable raft, a homing system, smoke floats and a spotlight.
The service describes itself as the "lifeboat of the skies" and works alongside other search and rescue services on land and sea.
Mr Ferbrache said: "We anticipate this aircraft being with us for around six weeks before it's replaced with the first of the aircraft.
"We're still on track to take delivery of a brand new Islander towards the end of next year, kitted with the very latest in search and rescue technology and thereby future-proofing the work of CIAS for around the next 30 years."
He said this extra plane had been brought in as the planned first interim aircraft had a number of defects and the time the repairs would take meant a lack of cover during the "busy summer season".