John Gollop resigns as Guernsey disability champion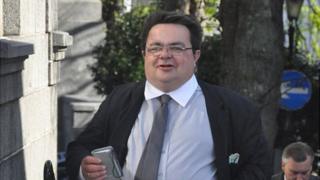 Deputy John Gollop has stood down as the disability champion for the States of Guernsey.
He was elected to the unofficial role ahead of two other candidates in June 2012.
Deputy Gollop said he had made the decision due to new responsibilities following his election to the Environment Department.
He said he "remained committed to achieving equality of opportunity for disabled islanders".
Deputy Gollop said: "My proudest moment as champion was seeing the Disability and Inclusion Strategy achieve unanimous support in the assembly.
"I'm particularly looking forward to being part of the Environment Department team that will be creating new disability transport options."
He said he felt confident his appointed assistant champions, Deputies Arrun Wilkie and Paul Le Pelley, would take the disability strategy forward.
Shelaine Green, Disability Alliance chairwoman, praised Deputy Gollop's efforts, describing him as "a true ambassador, keen to ensure that disabled people are considered in every aspect of island life".