Guernsey Bailiff Richard Collas awarded knighthood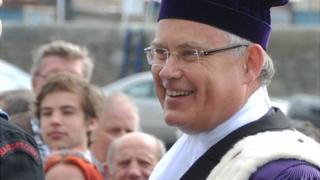 Guernsey's Bailiff Richard Collas has been made a knight in the Queen's Birthday Honours list.
Mr Collas has served as the head of the island's States and head of the judiciary since March 2012.
He said it was "absolutely delighted" and "enormously honoured", adding that it would "take a while to sink in".
Mr Collas said: "At a personal level I don't feel I deserve it... I do the role of bailiff because I really enjoy doing the job."
He said: "I do believe the honour is an honour for the island, I think it reflects the very special status of the Crown Dependencies.
"It also shows the office of bailiff is held in high regard, even beyond our shores."
Three other islanders were recognised in the awards and Mr Collas praised them for their "extremely hard work over very many years".
Dr John Glyn Allen has been appointed an Officer of the Order of the British Empire (OBE) for his charitable work in the island and overseas.
He was the former chairman of the Guernsey branch of ActionAid and worked with the island's Overseas Aid Commission to provide funding for projects across the world.
Dr Gregory Stevens Cox became a MBE for his services to the history and culture of the island.
The academic and historian has written a number of books on life in Guernsey and taught in local schools for many years.
Joan Ozanne has been awarded the British Empire Medal for her work with the community and the arts in Guernsey.
She said: "It's nice to feel that someone thinks what I've been doing all this time has been worthwhile. For that reason I feel extremely proud."
The Queen's birthday will be celebrated by a 21-gun salute at Castle Cornet at midday.