Guernsey bus contract tenders sought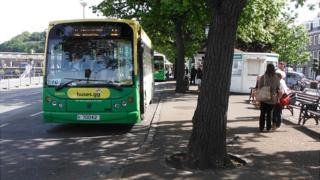 Companies interested in running Guernsey's bus services from April may need to buy a new fleet of vehicles.
The current operator CT Plus had an extension to its two-year contract until March while a transport strategy was discussed by the States.
The 41-strong fleet is owned by the States and the youngest vehicle is 10 years old.
Replacing some buses with minibuses and dial-a-ride services are among the suggestions in the tender document.
The report says the 33 larger buses in the fleet are "generally considered too large for many of Guernsey's roads".
The public bus services has been criticised due to a major change to route and the introduction of a two-tier fare system.
In the States strategy it was agreed to make the service free for 18 months while other changes are made in a bid to reduce car use.
The contract, which covers both the public and school bus services, will be for five years, with a possible extension of up to 15 years.
Companies have until the end of month to express their interest.