Guernsey politician in call for equal adoption rights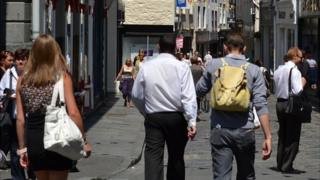 There are calls to reform Guernsey's adoption laws to give equal rights to unmarried and same sex couples.
Deputy Elis Bebb from the Health Board said the rules were unfair as only one person in a couple is able to adopt.
Guernsey's 50-year old adoption law differs from those in England and Wales, which allow unmarried couples to adopt a child through the courts.
A spokesman for health and social services said reform of the adoption is law was under consideration.
Deputy Bebb said the rules on adoption needed updating to reflect modern society.
In the past five years, 23 adoptive homes have been found for children, mostly with couples in Guernsey. A small number of single women and no single men have adopted children in Guernsey in the past five years.
There is no provision for same sex marriage or civil partnerships in Guernsey, although the chief minister, Jonathan Le Tocq, has proposed a new "union civile".
Karen Reed from the Guernsey Family Placement Service said: "If a gay couple, lesbian couple or unmarried heterosexual couple want to go through the adoption process, one of them can adopt and the other can be given a parental responsibility order.
"It gives some provision for that person but obviously the law is dated and does require reform."
The health and social services spokesman said adoptions taking place in England and Wales would still be recognised in Guernsey.