Alderney airport runway to re-open in June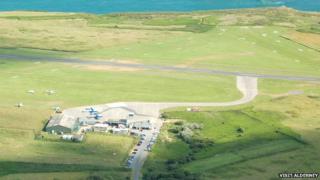 All three runways at Alderney Airport are expected to be back in operation within two weeks.
Extensive work has been carried out in recent months after the runways were affected by poor drainage.
Improved drainage and repairs mean the asphalt strip and the longer of the two grass strips are already in use.
The shorter grass runway is expected to open in June, following an inspection by the Channel Island Aviation Authority.
The grass runways were closed last year, mainly as a result of heavy rainfall.
Water-logging around the remaining asphalt strip in February reduced its useful width by a fifth and its length from 877 metres to 799 metres.
In certain weather conditions that meant Aurigny airline, which flies between Alderney and Guernsey, was forced to carry two fewer passengers per flight because of weight restrictions.