Guernsey States agrees Aurigny loan to buy new planes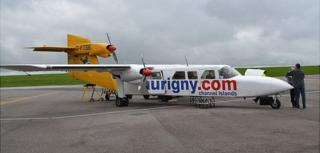 Funding for the replacements for the trislander planes, which operate to and from Alderney, has been approved.
Guernsey States-owned airline Aurigny has stated the planes need to be replaced due to high maintenance costs and rising unreliability.
The States of Guernsey has agreed to lend the airline the money or guarantee a loan for the purchase.
There is no limit on the amount of the loan taken out for the purchase or lease of the aircraft.
The purchases need to be approved by the Treasury and Resources Department through the submission of a business case.
A business case for the purchase of two second hand Dornier 228 has already been submitted by the airline.
He said the Dornier plane was more "modern, reliable, cheaper to operate" and had double the crew - with two pilots compared to the trislander's one.