Seal pups returned to wild by Guernsey animal shelter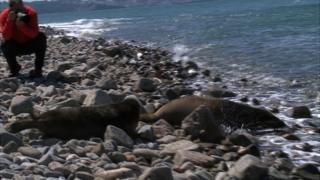 Two seal pups washed ashore in January's storms have been released back into the wild.
The pups, dubbed Eden and Trinity, were found on Guernsey's east and west coast respectively.
Both were starving when found and are believed to have been separated from their mothers by the bad weather.
Staff from the island's animal shelter released the pups from the island of Jethou, near Herm, as they had recovered the weight they had lost.
A spokesman said at their age the seal pups should have weighed more than 40kg (88lb), but when they were found Eden was 15kg (33lb)and Trinity 18.8kg (41lb).
The GSPCA had appealed for donations of fish or money to help feed the animals, who can eat 20-30 fish a day.
The release was not advertised to ensure the pups were undisturbed in their return to the sea.
Two seal pups released last year were among the seals who greeted the pair's arrival.