Guernsey paid-parking petition attracts 1,500 supporters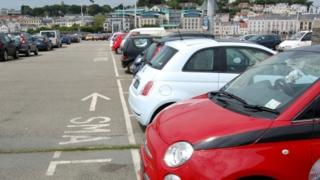 An internet petition against a decision to introduce paid parking for long-stay spaces in Guernsey has garnered more than 1,500 supporters.
The 60p-an-hour charge to use public car parks in St Peter Port is due to start from April 2015.
However, another petition has been started, urging the government to not "make yet another U-turn".
The introduction of fees is part of a traffic project that aims to reduce the island's reliance on car use.
The petition to Chief Minister Jonathan Le Tocq against paid parking claims "very few people want it" and that a "small minority has called for its introduction".
'Brave decision'
Three members of the Guernsey States Environment Department resigned following the decision to introduce the fees.
Former environment minister Roger Domaille said the fees were "unfair" as he, Deputy Tony Spruce and Deputy Barry Paint, all stood down.
But Deputy Barry Brehaut, one of those behind the proposals, said such charges and other measures were needed because "we have a problem on the island, the problem is to do with the motorcar, the circulation and congestion".
Other proposals include new taxes on vehicles and a free bus service.
The online petition in response to the anti-charges campaign asks the States not "make yet another U-turn, leave Paid Parking in place".
It said: "For once the States have made a brave and difficult decision ... Now don't let them cave in to a vocal minority and make yet another embarrassing [sic] U-turn."
Previous U-turns by the government include, in 2012, the Commerce and Employment Department promising a consultation over reviewing Sunday trading laws by the end of that year. That was later dropped.