Noise warning over Guernsey Airport project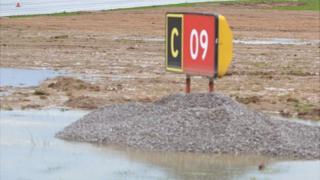 The "final stages" of an £80m airfield refurbishment at Guernsey Airport have begun after delays caused by rain.
Airport director Colin Le Ray said the main hard surfacing and construction works were completed in October.
He said the final stage of restoring and reseeded the ground around the runway had been held up by the second wettest winter since records began.
Mr Le Ray said work near the runway would be done overnight for about two weeks and apologised to neighbours.
He said the aim was to limit work at the western end to before midnight to reduce disruption, but he asked for a "little more patience from our neighbours".
Mr Le Ray said: "The really good news is this does now signal the end of the project."
He said the work was due to be completed by the end of June and he was "confident we'll be within budget".