Guernsey bus contract interest from two operators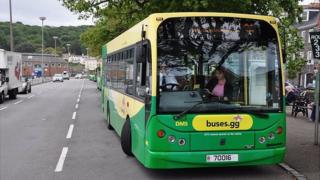 There could be competition to run Guernsey's new free bus service when it starts in April 2015.
The new service, expected to be more regular, efficient and comfortable, was agreed as part of the States new transport strategy.
The current operator, CT Plus, said it was "deeply committed" to working in Guernsey and hoped to become a long-term partner with the States.
Island Coachways, said it was interested if the terms were right.
The company ran the service for 10 years until March 2012, when current operator CT Plus took over.
Political will
The CT Plus contract ends in April 2015.
Deputy and regular bus user John Gollop said funding would be a major hurdle in making the service free.
He said: "I think given political will and civil service resources and money from treasury and resources, yes, it could work."
Politicians agreed on Thursday to introduce paid parking for the first time in public car parks.
Members also agreed to introduce a number of duty rates including a vehicle registration fee, width duty and CO2 emission duty.
The money from the duty charges and the paid parking will be used to fund the free bus service.