Guernsey WW2 airmen memorial design unveiled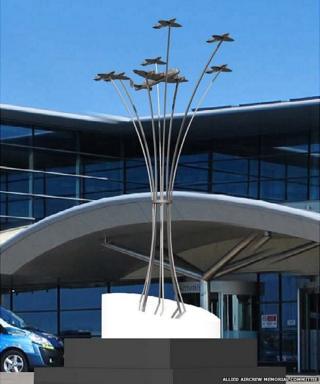 The design of a memorial dedicated to Allied airmen shot down over the Bailiwick of Guernsey during World War Two has been unveiled.
The names of the 139 casualties will be listed on plaques around the base of the structure, which will feature seven planes; a Boeing B17 and six Spitfires.
Historian John Goodwin has investigated those shot down by the German troops stationed in the island.
He has found the majority, 89, were from the United States Army Air Force.
A spokesman for the committee said to reflect this it had chosen the B17 bomber, which was crewed by American airmen, to replace the Lancaster bomber in the design.
The other 40 casualties were from Britain and the commonwealth forces including Australia, Canada and New Zealand, as well as aircrew from Poland and Czechoslovakia.
Fundraising for the £50,000 project continues with organisers aiming for it to be completed by September 2015.