Guernsey church head Mellor to retire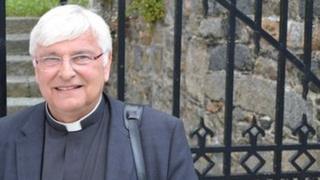 The head of the Church of England in Guernsey, the Very Reverend Paul Mellor, is to retire this summer.
Dean Mellor, 65, who has served in Guernsey for 11 years, said he wanted "to explore other things" and help the Church in Salisbury.
He said Guernsey had been "interesting" and "challenging".
Jersey and Guernsey split from the Diocese of Winchester in January after a dispute over how abuse complaints were handled.
'Extremely dedicated'
Relations between Bishop Tim Dakin of Winchester and Jersey's Dean, the Very Reverend Bob Key, broke down over the issue.
The Bishop of Dover, the Right Reverend Trevor Willmott, has been overseeing the islands on behalf of the Archbishop of Canterbury.
Dean Mellor said: "We have our difficulties as everyone knows at the moment but I think on the whole the parishes and clergy are extremely dedicated and reach a tremendous number of people."
The archbishop is to appoint a commission to look into the islands' relations with the mainland.