Guernsey population falls for first time in years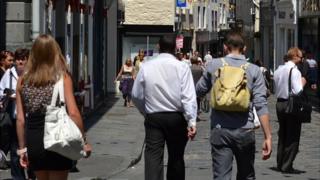 Guernsey's recorded population has fallen for the first time since 1996.
The Guernsey Annual Population Bulletin has revealed the overall population is 62,732, which is 353 fewer than in 2012.
In 1996 the population was 58,681, according to census data.
Chief Minister Jonathan Le Tocq said it would be "interesting" to see in a year's time if the drop was an anomaly or a new trend.
'Emigration higher'
Deputy Le Tocq also pointed out that annual data had only been published since 2006 using social security data. Earlier figures came from the island's five-yearly census.
Emily Field, Guernsey's research officer, said: "The natural population increase is quite stable but emigration is higher than immigration.
"It's too early to say if that's a trend."
The States of Guernsey also announced on Friday that in the year ended March 2013, 6,012 work permits were issued, 242 more than a year earlier.