Cattle export bar's impact on Guernsey minimal, says vet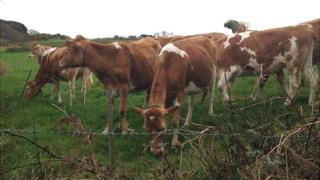 A ban on exporting cattle from the Channel Islands to the European Union has a "minimal impact" on Guernsey, according to the States vet.
Following changes to EU disease testing rules in October, the UK stopped the export of cattle from the islands.
David Chamberlain said while Jersey exports heifers to the UK each year it was not as common in Guernsey.
"For farmers in Guernsey there's not going to be a huge impact," Mr Chamberlain said.
'Nasty diseases'
"Jersey has a completely different dairy set up to ourselves.
"They do have a number of farmers whose income relies on exporting heifers to the UK and Jersey has huge ambitions in terms of exporting bovine embryos around the world."
He said the island's cattle are "perfectly healthy".
"We've been testing the cattle annually since 1993 and we've got no evidence of any nasty diseases being harboured anywhere," he said.
Mr Chamberlain said the ban was due to the "nature of the tests... it doesn't mean they've got disease, it just means they haven't followed the exact procedures required."
He said the ban did not affect food and animal products so exports of butter could continue and meat could be exported once the island's new slaughterhouse has met EU health regulations.
Authorities in both islands are working together to find a long-term solution.