Guernsey States reject bid to delay transport debate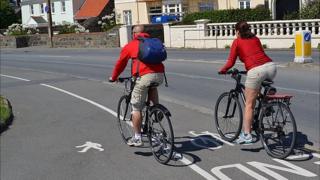 A move to delay a debate on plans to reduce car use in Guernsey has failed.
Deputies Jan Kuttelwascher and Dave Jones wanted to delay any decision to allow the financial impact of any changes to be taken into account.
Two strategies have been put forward by the Environment Department and a number of changes to both have been suggested by politicians.
The main proposals include a free bus service, a CO2 tax, a width tax on large vehicles and more cycle lanes.
Environment minister Roger Domaille said: "This is the third transport strategy debate in 10 years, which is an indication of how difficult previous assemblies have found it to agree and move forward.
"The complexities and consequences of any transport strategy are significant.
"[The proposals are] about making it easier and safer to use alternatives forms of transport."
Call for resignation
Deputies Yvonne Burford and Barry Brehaut brought a minority report - the main difference between the two being the introduction of paid parking.
Deputy Burford said the aim was for the user to pay rather than the current system under which "all taxpayers regardless of income or whether they own or use a car or not fully subsidy parking for those who choose to use it".
Deputy Roger Perrot suggested if one report was approved those behind the other set of proposals should resign so the department could move forward with the approved proposals.
He said the department had not "covered itself in glory" in presenting two separate strategies.