Guernsey prisoners to get 'in-cell' phones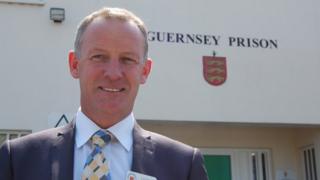 Prisoners in Guernsey are being given telephones in their cells in a bid to reduce bullying.
The Home department approved the plans for the pin activated phone system and hope to have it in place soon.
Currently offenders are only able to use phones located on wings during unlock times.
Prison governor Dave Matthews, said the system would not cost the taxpayer anything and would help in rehabilitation.
He said having phones in cells would cut down on the use of illicit mobile phones and reduce bullying incidents as prisoners would not have to queue to share phones during "limited association time".
"It means the PIN phone system prisoners have on the wings will be rolled out and put into cells.
"It will bring huge benefits in terms of family contact. If you are feeling low during the evening, normally you couldn't contact anyone but now you can pick up the phone and speak to someone on an authorised number. The prison will authorise those numbers."