Free pre-school places plan from Guernsey's Education Department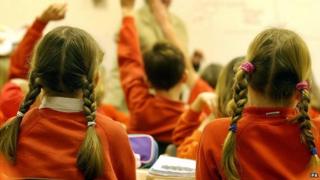 All Guernsey children could receive free pre-school education, if a £1.9m proposal is approved.
Children would get 15 hours a week of free education for 38 weeks in the year before they start primary school under the Education Department's proposals.
Minister Robert Sillars said: "Guernsey cannot wait any longer for this. We are way behind most other countries.
"We need to ensure the very best possible start in life for all our young children."
According to the department, 39% of the island's pre-school age children receive 15 hours or more of pre-school education a week and 94.4% attend some form of pre-school, nursery or private school prior to starting primary school.
Deputy Sillars said research had found "participation in pre-primary education is strongly associated with reading performance at age 15" with students performing an average of one year ahead in terms of reading skills.
Making it free to all children would avoid the fact that "a targeted approach is costly and inefficient", he said.
The department expects the majority of places to be offered by private pre-schools, which would be tested for quality standards.
Kim Abbotts, chairwoman of the Guernsey Pre-School Learning Alliance, said the group's members hoped to work with the department before the system was introduced.
The Treasury and Resources Department, which would have to find the £1.9m, has suggested offering education to all was offering a subsidy to the better off.
It also questions why no other early intervention policies have been considered.
If approved the scheme could be in place for September 2016.
The Education Department has said that if it fails at the States meeting in May to get approval the funding, which would run the scheme for a year, it will look at other ways to finance the project.