Alderney's official weather recorder Brian Bonnard retires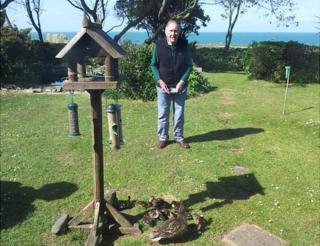 After 28 years the man who officially records the weather in Alderney has retired.
Brian Bonnard, 83, has a garden full of equipment including a sunshine measure on a 50ft (15m) pole.
The details he collects are not used to forecast the weather, but the records are published by the island's press.
As well as collecting day-to-day data including rainfall, humidity and wind speed, Mr Bonnard has collated records dating back to the 1850s.
The job, which is done on behalf of the States, may instead be done by the Alderney Wildlife Trust using Mr Bonnard's equipment at a different location.
Forecasts for the Channel Islands are provided by the Jersey Meteorological Department.