Guernsey Castle Cornet breakwater repair delay criticised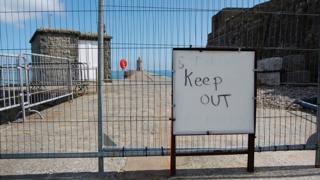 Guernsey's Harbour Authority has been criticised for delaying repairs to the Castle Cornet breakwater.
The site was cordoned off several weeks ago after it was damaged by storms.
The principal of the Guernsey Sailing Trust, Adam Reed, said the lack of access was deterring local tourism.
Harbour master Capt Chad Murray said the authority did not know when repair work would be completed, but added plans to re-open the breakwater with restrictions were being considered.
Mr Reed said: "We've cruise ships coming in and I've seen hundreds of people wandering up to see it.
"Local people also want to use use it. People like to go fishing up there and they can't at the moment."
Capt Murray said authorities had been "discussing putting up some fencing or barriers for a cordon so there can be pedestrian access".
He said: "We do realise that people want to use it."