Guernsey pupils given wrong 11 plus school places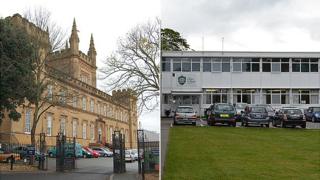 Pupils have been incorrectly given places at Guernsey's grant-supported colleges, according to the island's Education Department.
Each year up to 23 places are awarded at both Elizabeth College and Ladies' College and up to six places at Blanchelande College.
This is based on the results of the 11 plus exams taken by year six pupils.
A spokeswoman said an extra place was awarded at one school and the final place at another was being reviewed.
The 11 plus is a series of written exams and is used to help decide which children are offered a place at the island's grant-supported colleges or the States-run grammar school.
Apologised 'unreservedly'
The spokeswoman said 24 places were awarded at Ladies' College and it was not yet clear if the extra pupil would be allowed to attend, at an additional cost to the department.
She added that three pupils achieved the the same score for the 23rd place at Elizabeth College.
Normally, as only one pupil can be awarded the place, their work would be scrutinised before it was decided who the place would be offered to.
The spokeswoman said: "Unfortunately this did not happen and the place was awarded without this review of the pupils' work taking place."
She said the department apologised "unreservedly for any difficulties this has caused" and said staff were in contact with the families affected.
She said staff were working to resolve the situation as soon as possible at what was a "crucial and stressful time" for pupils and families.