Guernsey's former slaughterhouse attracts art group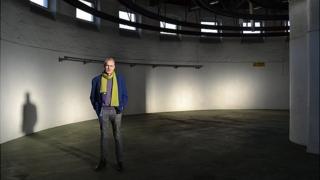 Guernsey's former slaughterhouse could be put to use housing an art project for the next two years.
The Arts and Islands Foundation was the only group willing to pay for its use, said Deputy Tony Spruce, from the States Property Services Sub-Committee.
The foundation wants the site for a joint project with Cai Guo-Qiang, the Beijing Olympics' artistic director.
However, permission for a change in use at the site needs to be granted by planners before it can happen.
Eric Snell, from the foundation, said: "The plan to celebrate the heritage of our island and the shipbuilding industry from 160 years ago is to build a Chinese junk.
"We're looking to use the slaughterhouse as an information centre to support this initiative."
The 32m vessel, which will sail around the Channel Islands hosting and participating in events including the opening ceremony of the 2015 Jersey Islands Games, is due to be built not far from the building.
The biggest ship built in the island was the Golden Spur - the 200ft long vessel was assembled in 1864 for the tea trade from China.
Mr Snell said Cai Guo-Qiang was keen to establish cultural links between the islands and his home city of Quanzhou, which also has a long maritime history.
He said: "We're looking at running educational programmes, we hope such an initiative will raise the profile of the islands culturally, but also raise the economy by hopefully encouraging tourists."
Deputy Spruce said: "It is always good if we can earn some revenue from vacant buildings.
"As this building is part of the Ports Master Plan we couldn't let it on a long-term lease."
He said the board had been "very interested" in the project.