Island lottery raises £200,000 for Guernsey causes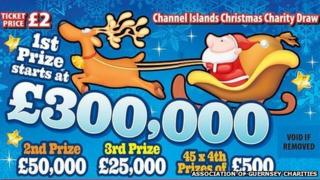 Some 30 Guernsey charities will share the proceeds of the 2013 Channel Islands Christmas lottery.
Ticket sales in Guernsey raised £210,000, which will be split between the good causes.
The 2013 lottery saw the ticket prices rise from £1 to £2.
The Association of Guernsey Charities will issue grants from £350 to £30,000. The largest grant will be awarded to Guernsey Cheshire Homes for the second year running.
Male Uprising Guernsey has received £10.000 to help pay for a male cancer nurse specialist and Autism Guernsey will receive £9,000 to fund support staff.