Latvian ambassador raises questions over pensions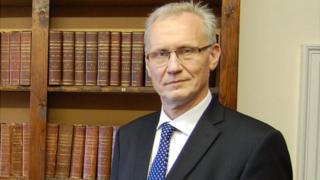 The impact of restrictions placed on foreign workers by Guernsey's government should be explored, the Latvian ambassador to the UK has said.
Short-term licences permit foreigners to work for up to nine months, but when they leave they cannot return to employment for at least three months.
Andris Teikmanis said this led to questions about benefits like pensions.
He said there were no precise figures for the Guernsey community, but it was between 1,000-1,500 strong.
The ambassador said there were about 100,000 Latvians living in the British Isles and he was travelling to different communities to see if they had any issues the embassy could help with.
Mr Teikmanis said during his short visit, his first to the island, he had heard Latvians were integrating well into island society.
He said he also intended to pursue areas of common interest, especially work on information communication technologies, between Latvian government and businesses and their island counterparts.