Channel Islands tops Beachwatch conservation survey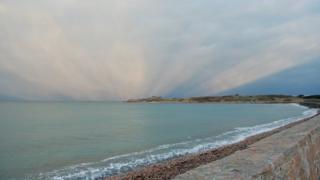 Beaches on the Channel Islands are cleaner than the majority in the UK, according to a marine conservation survey.
The Marine Conservation Society's Beachwatch survey for 2013 shows litter found locally is going down, whereas in the UK it is rising.
Jan Dockerill from Guernsey's Environment Department said more bins and recycling facilities help.
Mrs Dockerill also said islanders "care deeply" about the beaches.
"Historically the Channel Islands have always had low scores compared to what we see around most of England.
"We have a lot of people who care deeply about beaches and they're cleaning it up all year round," she said.
'Bullet-proof vest'
Levels of litter on British beaches last year were at their highest level in two decades, with 2,390 items of rubbish found for every kilometre of coastline surveyed and cleaned by volunteers.
The conservation charity's annual Beachwatch, which takes place in September, shows the amount of litter on UK beaches steadily increasing over the 20 years it has run.
Vazon Beach in Guernsey scored the best in the British Isles for the number of black bags per kilometre collected, with 0.25.
Lauren Eyles, a Marine Conservation Society beachwatch officer said 2013 was a vintage year for finding strange things on beaches in the UK.
"As well as half a TV, a French bullet-proof vest and a pack of bacon, there was a brass candlestick, some plastic bird feet, a birdcage, a bath plug, half a canoe and a set of dentures," she said.