'No factions' in Guernsey States says Deputy Langlois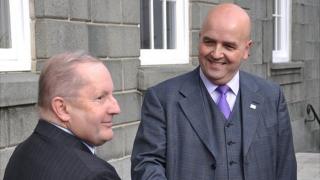 Suggestions there are two factions in Guernsey's government have been dismissed by the island's new deputy chief minister.
Deputy Allister Langlois lost the election for chief minister to Deputy Jonathan Le Tocq by two votes.
Earlier, Deputy Langlois was voted in as deputy chief minister after being proposed by the chief minister.
He said his nomination by his former electoral opponent was an "overriding strength of consensus government".
With five States members missing from the chamber for the vote there has been speculation over the possible outcome if the absentees had been able to vote.
Deputy Langlois said suggestions the States had split into two factions following the close vote "could not be further from the truth".
His election, along with four others made by the States, was unopposed.
Deputy Peter Gillson has taken on the role of home minister, which Deputy Le Tocq recently vacated.
Deputy Rob Jones was elected as Scrutiny Committee chairman to replace the late Paul Arditti.
Deputy David Inglis was elected as a member of the Social Security Department and former chief minister Peter Harwood as a member of the Public Accounts Committee.