Channel Island Air Search signs deal for plane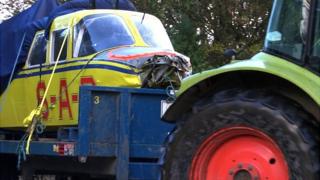 A deal to replace the search plane heavily damaged in a crash on Jersey has been signed by Channel Islands Air Search.
The Lion's Pride Islander aircraft was searching for two fishermen when it crashed landed last November.
All five crew were unharmed in the crash on 3 November and the fishermen were later rescued.
Roger Dadd, charity founder, said a temporary replacement plane would be flying again in about four weeks.
Mr Dadd said a deal had been signed with Britten-Norman, which will supply the temporary replacement that will have "limited technical capability".
He said the second Islander, which would "exceed the capabilities" of the Lions' Pride, was being overhauled and should be ready in about five months.
This would replace the first islander until a new plane, fitted with the latest technology, was built.
Colin Ferbrache, chief officer, said: "The purchase of a new aircraft is an enormous undertaking and we know this could not be achieved without the tireless support of Channel Islanders."