Guernsey Airport noise complaints lead to review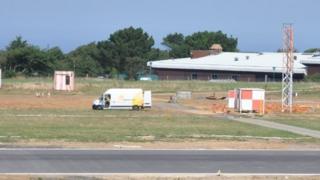 Guernsey Airport has launched a consultation into noise abatement after a report into complaints of noise pollution.
Since summer 2013 about 60 complaints have been received from residents.
In his report, island director of civil aviation Fergus Woods said although it was not clear what specific issues prompted the complaints, steps should be taken to reduce disruption.
He recommended some changes in local flight patterns.
The report said the majority of complaints related to aircraft taking off to the west, with most coming from residents in Torteval living to the west and south of the airport.
Mr Woods recommended that aeroplanes be forced to fly further from the airport before deviating from the direction of take off.
He has also suggested routes used for training circuits be more varied to ease the impact on houses in the south.
Guernsey Airport confirmed the consultation into noise abatement procedures had been launched.