Guernsey Environment Department plans to reduce car use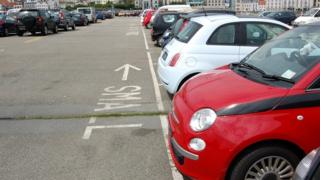 A free bus service, a width tax on large vehicles and more cycle lanes are all being proposed as ways to reduce the number of cars on Guernsey roads.
There are currently about 86,000 vehicles on Guernsey's roads, for a population of 63,000 people.
This is the third transport strategy in the past 10 years and the Environment Department said it started again with a "blank sheet of paper".
The proposals, including a CO2 tax, would need States approval.
As part of the strategy, the department has created a transport hierarchy.
Top of the tree is cycling and walking, closely followed by public transport, motorcycling and car sharing - with driving as the last resort.
Parking charges
There are divisions within the five-member committee - two of the board members submitted their own counter proposal.
The main proposal does not include plans for paid parking, something deputies Yvonne Burford and Barry Brehaut disagreed with.
They want a system of long-stay paid parking at various sites.
They also propose a chargeable annual permit for short-stay parking in disc zones of two and a half hours or less in St Peter Port.
If approved, the charges will be 60p per hour, but with a 50% discount for vehicles with lower carbon emissions.
Members are expected to debate the strategy on 30 April 2014.