Guernsey politician says Sunday trading 'changes society'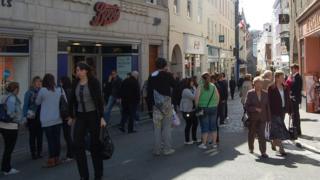 Relaxing Sunday trading laws will have a "serious impact on society" according to Guernsey's deputy commerce minister.
Deputy Al Brouard said a change in the rules would make every day a weekday and stop people having a day of rest.
The Commerce and Employment Department plans to launch a consultation this year to see if islanders would support a move to deregulate Sunday trading.
Deputy Barry Brehaut said shops should be able to open on a Sunday and a balance could be found.
He said: "It would find its own level because people's behaviour is different on a Sunday and people don't want to work every Sunday. If you opened every Sunday it doesn't mean all the shops would be full."
Deputy Brouard said people need a day of rest and the change would not be in everyone's best interests.
"It is alright for you to say 'you can go shopping on a Sunday if you want the shops open' but you might be working in income tax office on a Sunday, you might be working in shops yourself.
"You make society a different place, you make every day the same, every day becomes a weekday," he said.
If the public response supports a change, the law could be updated within 12 months.