Guernsey deputies stand to become island chief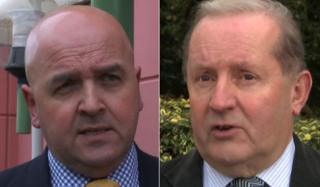 Two candidates are bidding for the post of chief minister in Guernsey.
Nominations closed at 17:00 GMT on Thursday, with Deputy Chief Minister Jonathan le Tocq and Social Security Minister Allister Langlois putting their names forward.
Deputy Peter Harwood stood down after a Private Eye article criticised him over his former role as Channel Island Stock Exchange director.
Politicians will elect the new chief minister on Wednesday.